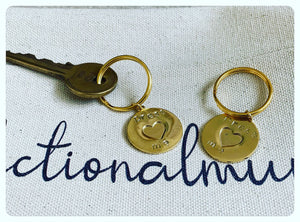 The magic button keyring has been designed to remind your little and not-so-little ones you're always thinking of them. This handstamped adoption gift keyring is designed with 'press me' on a gold-plated disc. 
"Have you heard of the magic button? draw one on your wrist another on his, that way whenever he wants to feel close to you he can press it," Notafictionalmum.
24k gold plated heart medallion 
18k gold plated key ring 
Hand stamped with "Press me" 
take care not to get wet, clean regularly to avoid tarnishing. 
Notafictionalmum is the UK's first - and original - infertility and adoption clothing brand. We are a small business built on love and strive for equality and inclusivity for ALL families. 10% of all Notafictionalmum sales profits will be donated directly to Barnardo's UK.
All sized clothing boxes and mailing bags are made purely from recycled materials and are fully recyclable. Even the tissue paper is PH neutral, recycled and vegan friendly.
*Notafictionalmum is a trademarked name all designs are therefore branded